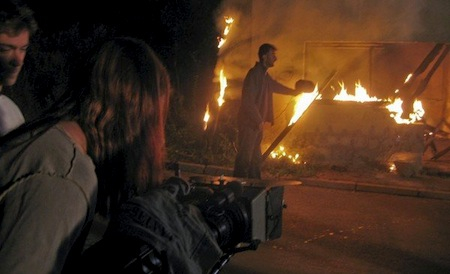 Promo/Corporate work for
CHARLIE MILLER HAIR STUDIOS
CITY OF EDINBURGH COUNCIL
EDINBURGH INTERNATIONAL BOOK FESTIVAL
EDINBURGH'S WINTER FESTIVALS
EDINBURGH UNIVERSITY
HEINEKEN
NAPIER UNIVERSITY
NATIONAL MUSEUM OF SCOTLAND
NHS SCOTLAND
OXFAM
PRINCE'S TRUST
ROYAL ACADEMY OF DANCE
ROYAL BANK OF SCOTLAND
SAMYE LING TIBETAN MONASTERY
SAVE THE CHILDREN
SCOTTISH BOOK TRUST
SCOTTISH GREEN PARTY
SCOTTISH WIDOWS
STANDARD LIFE
UNESCO CITY OF LITERATURE
Camera Operator
In the Wake of the Flood
(UK shoot) Feature length documentary about Margaret Atwood's book tour in 2009. Dir: Ron Mann. Sphinx Productions (Canada) / Skyline Productions (Scotland).
Fiddler's Bid
2010. BBC Alba. OB. XDCAM HD. Prod:Bees Knees. Dir:Bridget Caldwell Broadcast July 2010.
A Spanking in Paradise
2010. Veritas GB. Feature Drama. Operator [shared credit] and DIT. P2 Varicam.
Edinburgh's Winter Festivals
2005-2008. Skyline Productions.
The Way We Played
2005. Scotland/Bosnia. Brazen Hussies. DoP: Scott Ward. HD drama filmed in Tuzla, Bosnia. Online on BBC Film Network.
Night People
2005. MeadKerr Ltd. DoP: Scott Ward. HD Feature Film. New Found Film. [A very small 2nd Unit]
Kissing, Tickling and Being Bored
2006. Brocken Spectre. [B-camera] Tartan Short. HD F900.
G8
2005. Skyline Productions.'Make Poverty History' march in Edinburgh prior to the G8 summit.
Burns an' a' That!
2004. Skyline Productions. For the Burns festival in Ayrshire.
Tattie Hawkers
2008.BBC Scotland. [additional camera]. Documentary.
Days that Shook the World
(Kennedy Assassination)
2003. Lion TV Scotland for BBC. [additional camera]. Documentary.